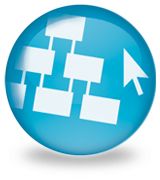 If you are on the Expanded level or higher, you will soon have the ability to add new pages to your site, remove unwanted pages, change the order of how pages appear on your site's navigation menu and even rename pages—all without contacting us.
What does this mean for you? More control to personalize your website so that it best reflects your business.
For example, if you sell a lot of banner ads, you can add a tab called Banner Ads, or if you work with a lot of malls, you could add one called Mall Signage. You'll be able to delete pages that you don't believe serve a purpose for your customers or business. And you'll be able to add pages to your site that showcase or promote something that's specific to your company. With this added functionality, you will have more power to turn your website into a marketing tool that best promotes what makes your sign company unique.