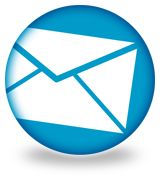 Give your small business a Fortune 500 image with branded email.
Personal email addresses (which include domains such as @yahoo.com or @aol.com) harm the credibility of small businesses. Switch to branded email addresses—which are customized to your website domain name—and upgrade your image.
Access your email from anywhere with internet access, manage email from your smartphone, spam and virus protection, out of office notices, shared calendars and chat feature for your staff.
Email hosting comes standard with 25GB of storage. The cost for email is $15 per month for every 10 mailboxes.