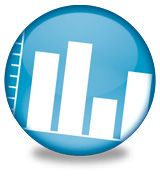 Imagine if you had a crystal ball and could see where your website visitors were coming from.
Using Analytics, you can act on larger trends in your website traffic by knowing traffic sources, keyword search terms, most-visited pages and visitor activities such as downloads. You can also explore details about individual visitors including length of visit, their city, language preference, operating system, browser and monitor resolution. Even better, you can see the unique computer identifier, called an IP address, that can tell you what organization a visitor is from, so you'll know who is checking you out.
With this tool, you can run marketing campaigns driving prospects to your website, then track the effectiveness of those efforts by measuring traffic on campaign-specific web pages. It also allows you to know which pages are most visited and should be updated more regularly.
And with real-time updates and easy-to-use graphs and charts, reviewing important statistics is quick and easy.