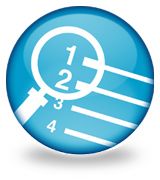 The starting point for any intelligent search engine plan, search engine optimization (SEO) leverages smart modifications to your site content and structure in order to naturally climb the search engine rankings.
While SEO can be a complex, ever-changing subject, Firespring makes it simple. After an in-depth consultation, we'll handle all the technical matters—meta tags, spiders, index pages and more—while you focus on your business.
After an in-depth consultation, your Firespring SEO consultant will:
Review your website content, tags and links and identify effective keywords to target, as well as other areas for improvement and optimization.

Perform a local competitor analysis to help strategically position your business within the market.

Write tags to feature keywords that are search engine friendly.

Revise website page content for optimal search results.
Search engine rules are always changing. Work with Firespring, and you'll always stay ahead of the curve and the competition.
Also interested in pay-per-click ads? Check out our search engine marketing (SEM) service.