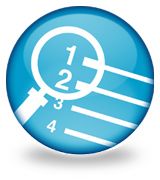 A highly-targeted way to climb atop search engine results, search engine marketing (SEM) uses strategic pay-per-click ads to claim visible listings on major search engines such as Google and Yahoo.
Without the proper guidance, search engine marketing can result in bad clicks or, even worse, no clicks at all. But with Firespring search engine marketing, your SEM consultant will help develop a campaign strategy to give you premier paid placement on the most popular search engines.
After an in-depth consultation, your Firespring SEM consultant will:
Outline your situation, needs and objectives through a detailed discovery phase.

Research and analyze your industry, competitive positioning and market to develop an ideal list of keywords.

Set up and maintain advertising accounts with Google and/or Yahoo.

Ensure your ads are meeting your objectives.
To expand your search engine efforts, you should also check out our search engine optimization (SEO) service.